Interview with Philippe Malouin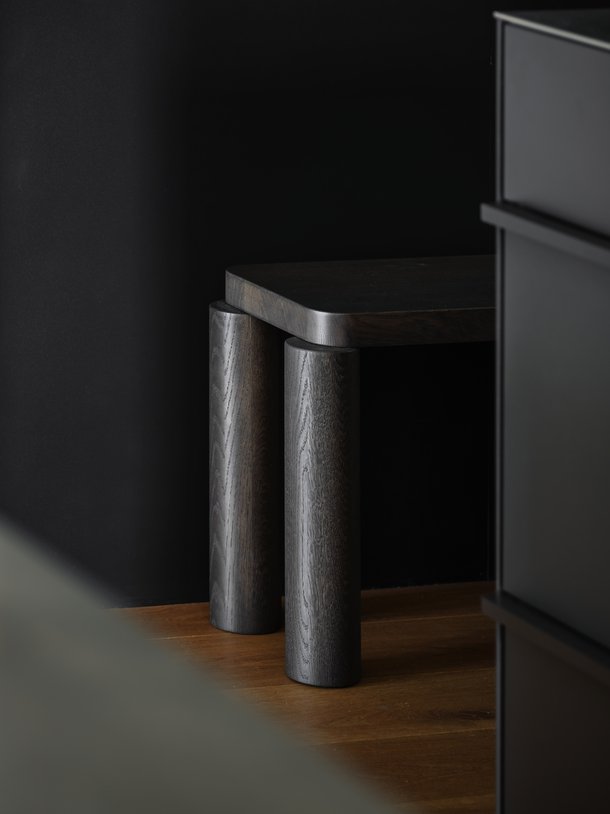 Mistakes Inform Philippe Malouin's Offset Collection for Resident
You designed the Offset bench and Offset shelving, which you're going to launch soon. I want to talk about the Offset collection in general. Why do you think that collection has had such a good response for Resident?

It's been one of the best sellers for the brand, which is quite exciting. I think the fact that it's playful and that there's an element of individuality in the way they're industrially produced, but not a single one is the same or will ever be because of how it's designed. And that it's solid wood. It's kind of bulletproof, like you could take a saw to it and it would still stay intact. Instead of buying a piece of furniture, for instance,where there would be particle board with a wood cap. So you get this value of the material and the seriousness and then the playfulness on the other side. Most importantly, it looks great, the more wear and tear it will have, as opposed to kind of buying something that will decompose if you chip it or whatever. I've had mine since they came out, and it looks better with the age.
I love what you're saying about how it's like they're made of multiple, but no one Offset piece is the same. I think that's really smart. Did you have the idea for this offset leg idea before you were working with Resident? Because it's very clever.

Most of my design comes from me making mistakes and errors. So this was just literally me, I was trying to put a leg on something and then I drilled the hole wrong, it was offset. When I put it on that's when I had the idea for a larger collection around this new concept.
Why did you want to create a bench and shelving for this go round?

I think the bench is quite nice to have. I use benches a lot, actually, in the entrance and to put plants on a bench either at the base of the bed or behind the sofa instead of having side tables. There actually aren't that many benches out there to buy if you go on a design website. Besides, the only bench I would buy for myself is the Artek bench by Alto. I don't think I would buy any other bench, so there's not many currently in the market, so a bench became something I was interested in doing. The great thing about a bench is you can just slide down, unlike chairs that you need to walk around, making it a space saving thing in a small home. And what I really liked about the shelving is the fact that you would get this double offsetness. Instead of having this one leg that's offset, you get two of them; the idea becomes accentuated. That was quite interesting to me.

It's interesting that you mentioned the Alto bench because they also have honesty materials, Which I think is something that attracts me to the work of Resident. And the new Offset bench is made of solid wood so there's this nice continuation in that thought process.

I mean, it's hard to do better than Alvar Alto, and I'm definitely not doing better than him, but I try.

What would you put on your Offset shelves?

Lots of friends' presents and books. Lots of books. Lots of photography books, actually. And obviously lots of fine art books. I have so many books that are really heavy, so big, fat books. This is a very solid shelf, so you definitely don't need to worry about the weight that you're going to put on it. I wish I was minimal, but I'm a very object-y person and I have lots of objects.